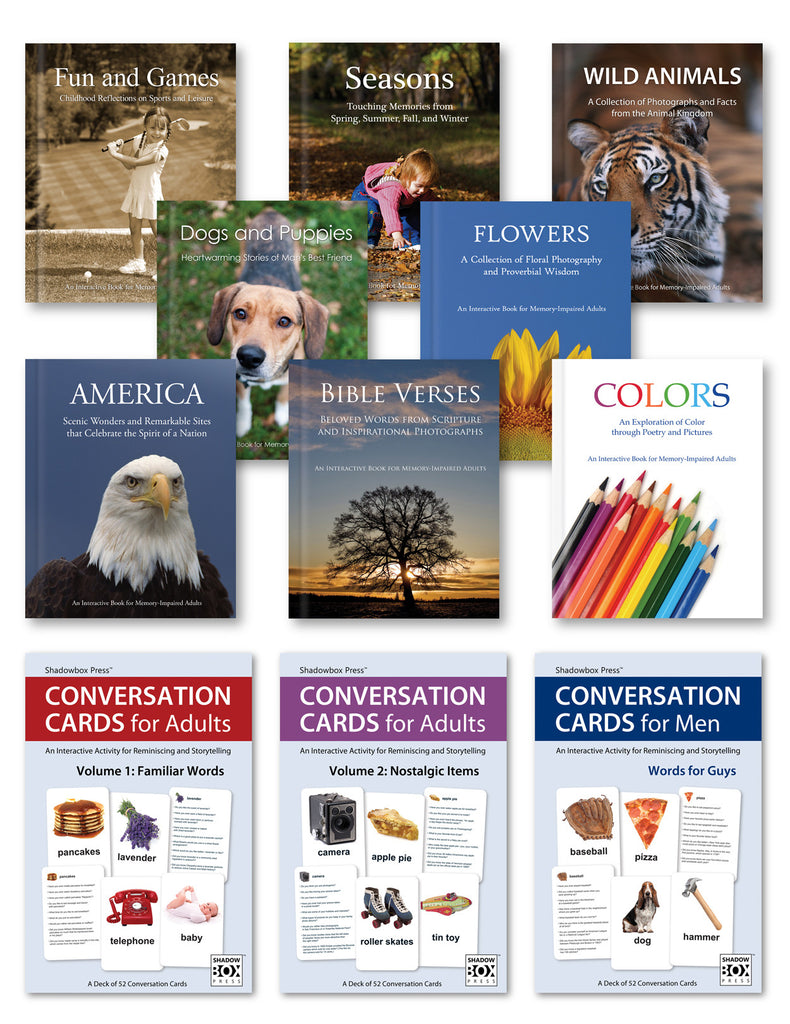 Complete Activity Collection – Books & Conversation Cards
Shadowbox Press activity products for dementia patients are designed to improve the quality of engagement and communication between adults living with Alzheimer's disease or a related dementia and their caregivers.
Shadowbox Press books are innovative and compelling in both content and format. Each 64 page, 8.5" x 10.5" hardcover book features large-print text, vivid photography, an interesting story or information, engaging conversation starters, and unique activities designed to provide a multi-sensory interactive reading experience for adults living with memory loss.
The Eight-Book Set includes:
America
Bible Verses
Colors
Dogs and Puppies
Flowers
Fun and Games
Seasons
Wild Animals
Shadowbox Press Conversation Cards are designed to encourage seniors experiencing memory loss to reminisce about a particular aspect or experience from their lives—the events both big and small that helped us become the people we are today. 
Each deck contains 52 two-sided cards. The front of each 6" x 9" card features a large, vivid photograph and the corresponding name of the item printed in bold, large-print text. The back of each card features nine questions—a combination of (4) closed-ended, (2) open-ended, (1) either/or, and (2) "Did you know" trivia questions. The questions are opinion-based—purposely created to have no right or wrong answer.
The Three-Deck Set includes:
CONVERSATION CARDS for Adults: Familiar Words 
CONVERSATION CARDS for Adults: Nostalgic Words
CONVERSATION CARDS for Men: Words for Guys
For more information about our products, visit the About Our Products page.
Shipping Weight: 14 lbs., 15 oz.